JPMorgan Chase CEO Jamie Dimon said it best: Fintech is an 'enormous competitive' threat to banks. Things like "inflexible 'legacy systems'" along with "extensive regulations," can hinder innovation within banks.
Traditional banks are facing threats from FinTech firms in every aspect of their business ranging from payment services to retail lending. Technological innovations have reshaped financial markets for hundreds, if not thousands, of years. The invention of the printing press facilitated the widespread use of paper currency, and the electronics and communication revolution led to the development of the ATM. The list is endless.
There is something unique about the recent disruption.
Instead of financial firms using technology to create innovative products, tech firms are now directly entering the banking space with novel solutions for customers. When Amazon, Apple, and Square enter the picture, the threat will be accelerated. Will banks become obsolete? What does this transition mean for the corporate leaders at banks and credit unions of all sizes?
When a bank or credit union is unable to buy or invest in a Fintech like megabanks are doing or merge with another FI, the next best option is to enter into a strategic partnership with a tech firm to leverage the expertise of both companies. Synergy gains are likely to be very high for such deals.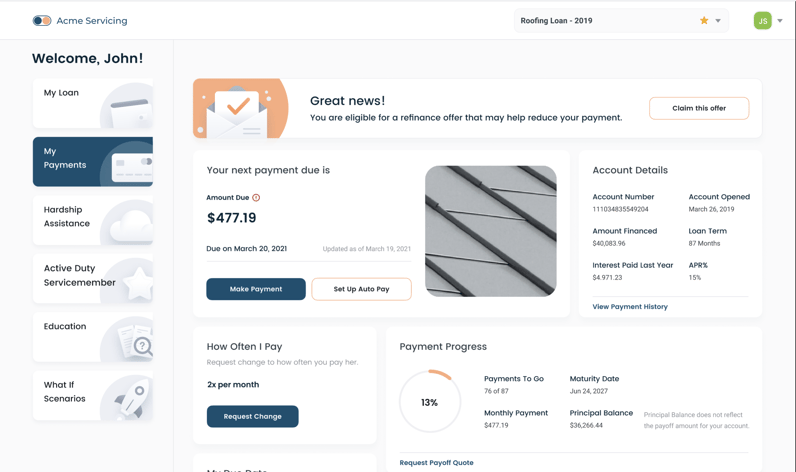 Focus on the customer experience: Lending
Let's take retail lending. For many borrowers, their only interaction with their lenders is when they log into a portal to make their monthly payment, which probably feels like a chore more than anything. Furthermore, if borrowers need to do anything other than make a payment- ask for a due date change, get a payoff quote, get SCRA benefits applied, for example - they will likely have to call your customer service line, be put on hold until a representative becomes available, and then be able to take care of their needs.
And what about the risk for consumer harm, disparate treatment, or misapplied benefits that are inevitable with manual processes and multiple handoffs?
Fortunately, the borrower experience doesn't have to be frustrating, clunky, and impersonal anymore. Lenders can leverage digital borrower loan portals with smart automation that give customers a place where they can do so much more than just make a payment. The primary concern is that to do so, FIs have to convert legacy core or other systems, and in today's market environment, waiting another 12-18 months may not be an option.
Enter Constant's cloud-native, digital borrower loan/lease platform which doesn't require FIs to convert or retire their legacy systems. The platform aims to engage borrowers digitally and relieve the back office from long fulfillment queues.
Instead of calling into your customer service line and tying up your employees with tedious and annoying tasks, borrowers can self-serve themselves so they can get what they want, when they want it. Automation like this ultimately frees up your employees and allows them to accomplish more without adding more people to your payroll while also avoiding manual mistakes that can lead to scrutiny from the regulators.
More personalization and more loyalty with Constant
Powerful borrower loan portals don't stop at providing automated self-servicing—they can do so much more to help FIs retain their customers and wield a competitive edge over megabanks and fintechs. You can upsell, cross-sell, provide planning tools to better manage debt, and even deliver financial literacy and wellness information.
With 75% of mortgage borrowers leaving their original lender for a different one when refinancing, borrower retention and loyalty is crucial now more than ever. Financial institutions need to differentiate between individual customers and deliver personalized value.
With Constant, you can craft a personal touch through language and how you connect while also personalizing offers and messages. Instead of general offers that your borrowers ignore, you can tailor a message to say, for example, "Hey John, it looks like your 2012 Prius is over 200k miles. Do you want to upgrade?" and then offer competitive financing before they look online for alternatives. Your borrowers will see and appreciate the value you're providing for them so that when it comes time to refinance their house or buy a new car, they won't even think about shopping around.
Give Your Borrowers What They Crave with Constant.
Constant helps mid-sized financial institutions compete with megabanks and fintechs with digital borrower loan portals that go beyond basic loan payments—without replacing your current core platform. Our smart automation gets rid of manual, time-consuming approaches that frustrate your customers and hamper employee productivity.
Schedule a quick demo today to see how financial institutions across the country are delighting their customers with Constant AI.